.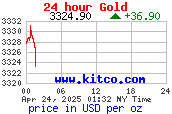 DGS Home Page ---- Products ---- Bookmark this Page---- U-Stream Feed
Many people would like to invest in precious metals, but don't have the background
to know what is a good deal and what is not. Count on Discount Gold & Silver Trading's
years of experienceto to present you with the best information available.
Call Discount Gold & Silver Trading at 1-800-375-4188, or you can email DGS